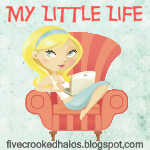 I know I haven't blogged in awhile, but I'm working on something, and in the meantime, this is me stalling. ;0)
1. Do you do a real or fake Christmas tree?
Real, of course! We live in Oregon, and, well, to not have a
real
tree, is just wrong. And, because we live in Oregon, we have access to some of the best trees, for a fraction of the price of some of our West Coast neighbors (my little bro & his girlfriend live in Cali & pay a pretty penny). So, we'll go out and cut down our own tree then haul it back home to decorate. I loove the smell of fresh pine and will even put up with the icky little bugs that hitch a ride on
my
tree, just to get that experience.
2. What is your favorite Christmas tradition with your family?
Ever since I can remember, my family has gone out to breakfast on Christmas morning, after opening our gifts. Back then, it was just my parents, little brother and me and the only place open on Christmas Day was Denny's. Now, we have a larger group, and have moved over to IHOP. We also seem to get over there more around lunch time, than breakfast, now that we have kids of our own. But, it's still something I look forward to every year! :)

3. Do you celebrate Thanksgiving in your neck of the woods? And, if so...how many calories do you think you consumed yesterday?
We actually host Thanksgiving at our house. My parents always come over and sometimes Colin's mom or dad or my grandma will also come over. This year we had my parents & sister, Colin's dad and my grandma. Calories...? Hmm...are you even allowed to count calories on Thanksgiving? I mean, I thought it was an unspoken rule that Thanksgiving is one of the "freebie" days. Anyway, I did make green beans sautéed in butter with bacon, chocolate peanut butter pie and brown sugar glazed ham. Then, there was the turkey, mashed potatoes & gravy, rolls and two other pies. So...calories...? Umm...no idea. ;0)
4. Have you started decorating for Christmas, yet?
We have everything out and ready to go! We will probably decorate this weekend, and maybe even get our tree! Christmas is my favorite holiday and I LOVE to decorate, so I'm WAY excited!!

5. What is your favorite Christmas cookie?
Well, I love sugar cookies, especially with cream cheese frosting. Also, my mom makes haystacks, which are seriously to.die.for. I can probably eat my weight in those in one sitting, and probably have! Yum, yum!